It's the most wonderful time of the year- no, not when the Home Depot Hot Dog stand puts up summer hours, but the other most wonderful time, The Nordstrom Anniversary Sale.
As I wrote last year, this sale is one of my favorite shopping events of the year. It's NEW fall merchandise, on sale before it hits stores at full price. This was my first year not living in Michigan for the sale, so I let a few tears pass as I scrolled by delicious, heavy winter coats and cozy sweaters. I had to adjust what I was buying due to my change in climate (did you know even your fingers can sweat? ME EITHER!). I may have let a sweatshirt or two slip in there, but I am only human and a change in scenery cannot change me!
My purchases were carefully curated, and I'm sharing what I got, plus a few. I'm still in my period of (F)unemployment, so I had to shop responsibly (somewhere, my husband is smiling reading this. Hi, Mike!).
This was the first item that caught my attention. The price was right, print is a perfect Fall-floral, and I love the vintage silhouette of it. It is a tad low cut, but I think the length and sleeve detail make it more Lady than Tramp (but if Tramp is your thing, I'm here for that too- women doing what they want 2018!!). The buttons from bust to hem make it possible to even wear this dress as a top. I wore it over jeans, unbuttoned from the hem to my waist and voila! Now you have a blouse and a dress! You're welcome!
Transition this from summer to fall with sneakers or boots instead of sandals, or layered with a turtleneck or tee underneath.
The extent of my sweatshirt wearing now is slipping one on when Mike's not home and I turn the AC down to 65. But this limited-time activity did not prevent me from adding this perfect pull-over to my collection.
The high-neckline allows this sweatshirt be a more refined, and less sloppy. If I didn't live in the pits of hell, temperature-wise, I would pair with a midi skirt and sneakers come Fall. Until then, I'll wear it in front of my freezer.
I live for bodysuits. They're easy to throw on, comfy and great for layering. I'm always looking for ones I can wear for going out, as it's a one-stop-shop to a great outfit (well, you'll need pants or something. Hopefully.).
This one from ASTR is a rich, metallic silver-grey, and will look great with black high-waisted pants or baggy jeans. The front-twist detail is extremely slimming, and it DOES have a snap closure. Let's face it, there's nothing worse than going to the bathroom and sitting naked in the stall, because you had to pull down your entire bodysuit. It's peak vulnerability. There is probably no other frequent-situation that makes me reevaluate my life and choices more. Snaps make this a sure purchase.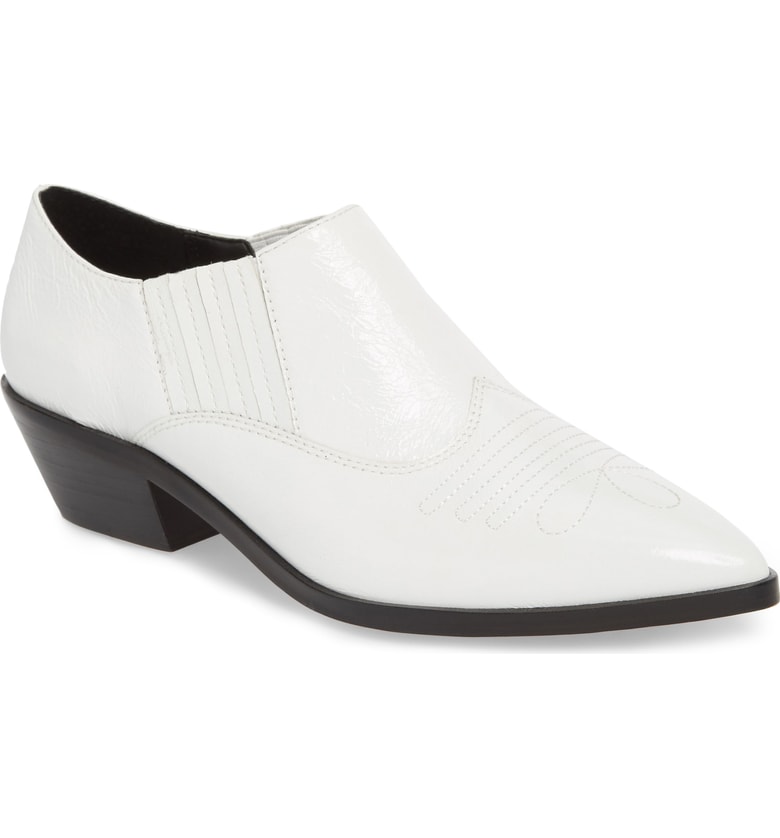 I have long been looking for a perfect white Western-inspired boot, but everything I found made me look like a Dollar-store version of Jessie from "Toy Story". They were either too tall or too pointy, and I looked more ready to two-step, not for two drinks.
These are the ideal heel-height for every day, a perfect shade of non-stark white. The low cut of this boot makes it much more accessible to wear with multiple pieces. White boots are a big-time accessory right now, and you can wear them with anything from flowy dresses, to mini skirts or jeans and an over-sized blazer. Just stay away from anything Fringe. You are Rodeo Drive honey, not a Rodeo Clown.
I love that Vans became not-just for the skater crowd, but a true cool-girl staple for women and men. It's like the modern version my pink "Etnies" from 6th grade, but without the Happy Bunny sketches on them. THANK GOD FOR PUBERTY!
I immediately took to this updated-version of the plain black Vans. The body of the shoe is linen, giving it a great textured look. It's a fresh take on a white sneaker, which goes with just about everything already in your closet. The gold-logo detail dresses it up a bit, making me feel like the COOL girl at the skate park, not the one riding by on her bike on the way to the Aquatic Center, kick board in tow.
This deal is the true reason I began stanning (linked that to the Urban Dictionary definition because there are sweet moms reading this) this sale in the first place. I put these in our bathroom, on my nightstand, just about anywhere in our apartment. They are small with a big impact, the scent will still fill any room. Don't forget to de-wax them when you're done! They make the perfect holders for Q-tips, earrings, or even a holder for dipping sauces, when everything else is in boxes and you've got sweet potato fries in the oven. SO I'VE HEARD!
They also make perfect gifts, but I'm feeling stingy this year so sorry friends! This one's for me.
I am the laziest when it comes to lip product. Yes, lip balm is essentially attached to my right hand, but when it comes to lipstick, I'm lazier than 7-year-old me during "T.G.I.F". on ABC (Why hasn't "Sabrina the Teenage Witch gotten her reboot yet? For another time.). That doesn't stop me from owning about 20 lip colors, however! Old habits die hard, or in my case, they don't die at all because I'M STILL BUYING THEM!
Dior Lip glow is the one lip product I use up, every time. I own 4 shades, and each one holds a special place in my heart and purse. It's the easiest and most non-committal way to wear lip color. It moisturizes and enhances your lips natural color, while giving you a natural flush of perfectly pouty shades.
They can be expensive on their own- $34 a pop. But in this set, you get your choice of Lip Glow in Coral (my favorite for summer) or Pink (the OG), PLUS, a lip lacquer (a very light-weight lipstick with mega-shine and high pigment) and a mini lip-plumping gloss. This set is your introduction into the addiction of Dior Lip products and I'm so sorry but also, you're welcome.
And in a dark turn: Thank you to this sale for distracting me from the world essentially being on fire! At least I have my sweatshirt to keep me warm. Happy shopping!